BrewDog Intergalactic Beer Visa is here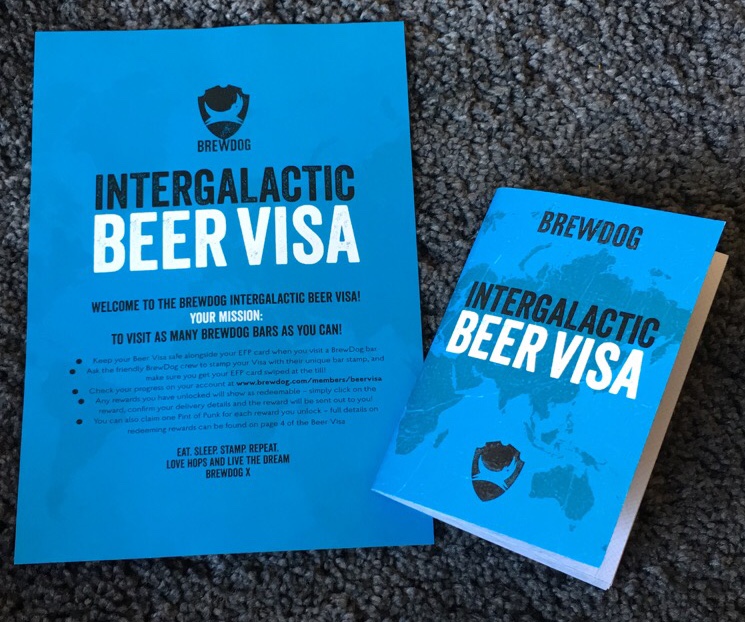 As I'm sure most craft beer lovers are I'm also a BrewDog Equity Punk. Since I bought shares I've been hoping BrewDog would release something like the Intergalactic Beer Visa, and now they've done just that.
You collect stamps and in return collect rewards. There's a number of groups such as bars in Scotland, bars in England, etc, and each completion of a group entitles you to a free pint of Punk IPA. Visiting 40 bars entitles you to a 'This is 40' reward, but I'm not entirely sure what this is. Must be something substantial as you have to send your passport off at this point to BrewDog to claim it.
Every BrewDog bar around the world has its own unique stamp, as well as a section in the passport to be stamped, plus other information such as number of taps and the bar contacts. I was initially wondering how BrewDog would handle new bars coming on board, but they've got around this by providing a 'New Bars' section within the passport to allow stamps from future bars.
I'm really not sure how many of the stamps I'll be physically able to collect (Sao Paulo 🇧🇷? Tokyo 🇯🇵?), but I'll definitely give it a good go. The Yorkshire bars should be an easy feat at least, and there's the BrewDog AGM coming up in a few weeks' time which should allow me to stamp off a lot of Scotland 🏴󠁧󠁢󠁳󠁣󠁴󠁿.
I'll keep you updated on my progress...